Cliffhangers India
case study
Cliffhangers India is a trekking and traveling company that has been operating in Kashmir, India since 2015. They approached us for SEO services but when we conducted the website SEO audit, we found a lot of errors. We suggested to the client that they redesign the website. After the redesign and implementing the SEO, you can see the growth.
Last Updated: May 1, 2023
Cliffhangers India had an inconsistent website that lacked proper style guides related to colors, logo size, and typography. The sections of the website were not aligned properly and the overall website looked unprofessional. There was no call to action optimized in the website that hurt conversions, business revenue, and customer lifetime value. A few screenshots of the old Cliffhangers India website are included below.
SEO and web design results
Cliffhangers website has a new stunning design by SmartFinix. The design is optimized to attract prospective customers and rank higher on google. The new design of the trekking page is more valuable and easy to access.
Leads Generated in 2 Years
Keywords Holding 1st Position
Keywords on Google's 1st Page
Monthly Keywords Impressions
Average position of keywords
Followers Gain on Instagram
After implementing website redesign and SEO on Cliffhangers, we saw a significant increase in organic traffic from Google search engine. See the details below.
Ranking date: Jan 18 2023
You will find the most valuable keywords that generate leads for Cliffhangers India here. We are continuing to work on pushing other keywords to the first position on Google search results.
| Keywords | Position |
| --- | --- |
| cliffhangers india | 1 |
| premium trekking | 1 |
| nafran valley trek | 1 |
| barafsar lake trek | 2 |
| panikhar warwan trek | 2 |
| seven lakes of poonch | 4 |
| drung waterfall kashmir | 4 |
| warwan valley trek | 5 |
| kashmir great lakes trek solo | 5 |
| gangabal lake trek | 6 |
| kolahoi glacier trek | 5 |
Jan 1, 2022 – Apr 30, 2023
You can see the success of our SEO campaign for cliffhangers India here. Now, this website is getting almost 430k monthly impressions and the average keyword position is 15.8, as you can see in the screenshot. But this number is increasing day by day.
April 1, 2023 -April 30, 2023
Jan 1, 2022 – Apr 30, 2023
Apr 1, 2023 – Apr 30, 2023
Since we have implemented web redesign and new SEO campaign, organic search traffic has increased by 95% in just 6 months. These screenshots show 1 month data.
We created an Instagram marketing strategy and detailed execution roadmap for Cliffhangers that helped their staff implement Instagram marketing themselves. The results are shown in the screenshots on the right side.
We chose some of the older colors from the Cliffhanger logo to create a style guide. We combined the website typography with 2 different font families, Robot and Lato.
Our design team has recreated the logo for Cliffhanger, making some changes in colors and also designing a favicon.
We created wireframes for Cliffhanger and analyzed all aspects of SEO and CRO to finalize the design of a professional home page for the website.
The new Cliffhangers India website has been optimized for a clean user experience with a call to action for better lead generation. Check out an old and new website in the screenshots below.
We have optimized Cliffhanger website to fast loading on all devices. To ensure, we conduct website speed tests on different tools and the results are below.
Note: A website that loads in less than 3 seconds is considered to have good speed.
Google PageSpeed Insights – Desktop
Google PageSpeed Insights – Mobile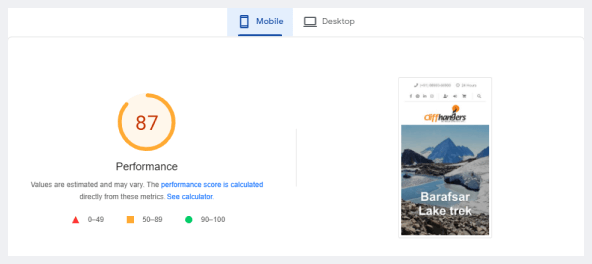 We have installed and integrated all of the codes and plugins that are necessary to perform marketing tasks, SEO, and track user behavior for the Cliffhangers India website.
I am very grateful to the SmartFinix team for creating my website exactly as I wanted. They are very professional and respond quickly to any questions or concerns. They did an excellent job.
Explore other related projects
Content Marketing Strategy
Request a Free Consultation to learn how we can help your business.
We are here to help you with the best solutions.