PeaceHimalya is a leading trekking and travel agency based in Himachal Pradesh, India. Pawan is the owner of this trekking agency. He has specialized in providing trekking on Pin Bhaba Pass Trek with more than 10 years of experience. So, He approached us to create a special website on this Pin Bhaba Pass Trek for his customers.
Last Updated: 1st June 2022
We designed a successful professional website for PeaceHimalya that included high-quality graphics and content. The results are shown below.
The style guide for peaceHimalya is a reference for how we used typography, font family, and brand colors for the logo and website.
Our client already had some great ideas for their PeaceHimalaya logo, so we took their suggestions and combined them with our own expertise in logo design. The end result is a truly stunning logo that perfectly represents the client's website.
The PeaceHimalaya website is designed to be professional and easy to navigate. The design ensures that visitors have a clear view of the website. The content is written in clear and concise language so that visitors can understand the website. So, You can see the screenshot below.
We've conducted website speed tests on PeaceHimalaya using Google PageSpeed Insights, GTmetrix, and Google LightHouse. The results are displayed below.
Note: A website that loads in less than 3 seconds is considered to have good speed.
Google PageSpeed Insights – Desktop
Google PageSpeed Insights – Mobile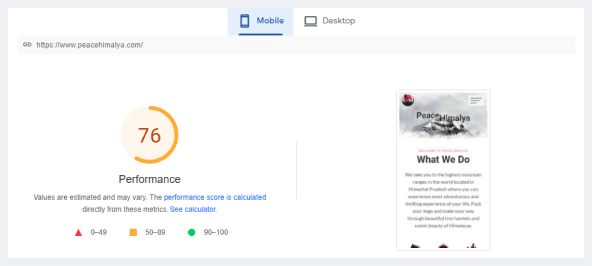 We have added a Whatsapp button for better conversion and installed RankMath for implementing SEO. We have also integrated Google Analytics and Google Search Console for monitoring users.
Wonderfully consistent work throughout! We wanted a travel website that worked well on desktop and mobile, was quick and could grow with our company. SmartFinix did a good job on it. Since our industry is very competitive. They explain to us about SEO and at least On-page SEO must be done before launching any website. I will definitely recommend their services.
Founder & CEO, PeaceHimalya
Explore other related projects
Content Marketing Strategy
Request a Free Consultation to learn how we can help your business.
We are here to help you with the best solutions.