KGN Biz Solution
case study
KGN Biz Solution is an Indian business process company based in Lucknow. We design and develop a fully responsive, modern, and fast-loading website on WordPress. We also handle website hosting and maintenance for them.
Last Updated: 1st June 2022
KGN Business Solutions is a complete business processing company in India. They had an old, outdated website that didn't represent them the way they wanted.
The KGN Business Solution team approached us to redevelop their website. They wanted a user-friendly website that would be easy to edit and maintain, and that would be optimized for search engines.
Our web design team worked closely with The KGN Business Solution team to ensure that the website matched their offline marketing and branding guidelines.
We have designed an effective website that provides visitors with easy-to-understand content that is relevant to their business.
The KGN Biz Solution style guide provides clear and concise direction on how we properly used brand colors, typography, font family, design elements, and brand identity.
The client's logo is only available in low-quality, so we recreated it from an old image in high-quality SVG format.
After extensive research and bringing all elements together, the final results of the KGN Biz Solution website are below.
We used a highly optimized WordPress theme and graphics to make sure the website would load fast. You will find reports of Google PageSpeed Insights, GTmetrix, and Google LightHouse below, which show the website's speed.
Note: The website speed test will show average results because the server is poor from the client side. But, a website that loads in less than 3 seconds is considered to have good speed.
Google PageSpeed Insights – Desktop
Google PageSpeed Insights – Mobile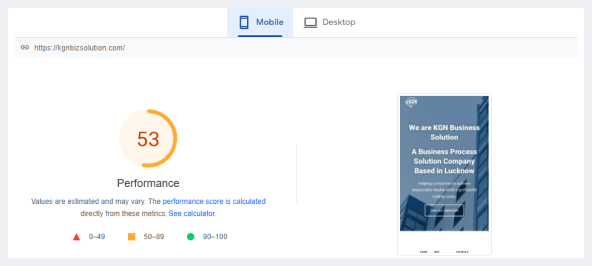 All essential marketing and performance tracking tools have been installed on this website.
I contacted SmartFinix for my website development and they did a great job. They customized the website and did fine adjustments just the way I wanted. It is well worth the money. I am looking forward to giving my website marketing and promotion work to the wonderful team of SmartFinix as well.
Founder, KGN Biz Solution
Explore other related projects
Content Marketing Strategy
Request a Free Consultation to learn how we can help your business.
We are here to help you with the best solutions.